Renault Trafic 9 Seat minibus
The Renault Trafic 9 seat minibus is available in two lengths, a 2700kg GVW short wheelbase (SWB) and a 2900kg GVW long wheelbase (LWB) and is available in two trim levels: Business and Sport. It is a front wheel drive, 120ps singel turbo engine with twin side load doors minibus that can be driven by a non category D1 license holder (ie normal car licence) on a non hire & reward basis.
NB. The difference in dimensions between the Short Wheelbase (SL) and Long Wheelbase (LL) models is in the rear luggage area. The legroom for rear passengers is the same.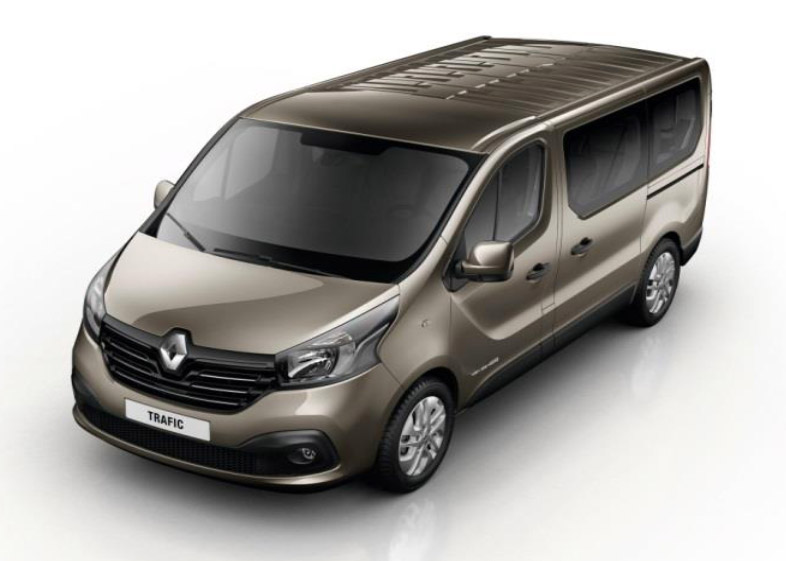 A Renault Trafic SL27 9 Seat Sport in metallic Stone paint.
See also Minibus Insurance, Renault Trafic Panel Vans, Renault Master Panel Vans
9 seat minibus driving licences
A non D1 license holder can drive a minibus where the gross vehicle weight does not exceed 3500kgs for non commercial purposes. If you require more than 8 passengers and want to drive on a normal car license (ie. non D1 category) have a look at our minibuses for car liceneces page. For an understanding of what a driver cans drive have a look at our minibus advice page for general information and our schools minibus advice page for advice on how to operate a minibus if you are a school.
If you dont need 9 seats and 6 will do. Why not try a crew van Custom 6 Seat Crew Van or Renault Trafic 6 Seat Crew Van.