What is the common definition of a minibus?
A minibus is commonly classed and will be classed in this website as a vehicle with between 7 to 16 passenger seats.
It can be driven on a normal car licence (ie. Non D1 or D1+E) if it is upto 3500kgs in Gross Vehicle Weight on a voluntary basis without fare paying passengers.
A vehicle with over sixteen passenger seats is commonly classed as a coach and requires a PCV D licence category to drive on the highway with or without passengers, fare paying or not.
Note that manufacturers normally quote the total number of seats including the driver. So they quote and class minibuses as 8 to 17 seats. e.g a Ford Tourneo Titanium 9 seat minibus has 8 passenger seats and a Renault Trafic LL30 9 seat has 8 passenger seats.
Minibus Taxation Classes.
There is no DVLA legal definition of a minibus since:-
A minibus with 7 or 8 passenger seats is taxed as a CAR with the road tax payable based on CO2 emmissions.
A vehicle with 9 and more passenger seats has a taxation class of BUS which is not CO2 based.
Who can drive a minibus?
Driving licences required to drive a minibus are based on the gross vehicle weight (GVW) and the status of the passengers carried.
Non fare paying passengers - Minibuses upto 3500kgs GVW:
A minibus that is upto 3500kgs gross vehicle weight can be driven on a normal car licence (category A or B depending on the vehicle's transmission) as long as the passengers are non fare paying for the journey directly or indirectly.
Non fare paying passengers - Minibuses Over 3500kgs GVW:
The driving entitlement needed for a minibus above 3500kgs, again with non fare paying passengers, is referred to as category D1 on a UK driving licence and D1+E for towing a trailer.
If you hold a driving licence issued prior to 1st January 1997, permitting you to drive Group A (or B for automatic) vehicles, you can drive minibuses in the UK but not in mainland Europe, provided you are over 21 years of age. (On new style licences the corresponding categories which allow the entitlement to drive mini-buses are listed as B and D1). i.e your licence will show a group A (B for automatics) on an old style green or pink licence or as category B and D1 (not for hire or reward) on a pink and green photocard licence. That being said, driving of the minibus must not be for hire or financial reward and the minibus must have no more than 17 seats, including that of the driver.
Drivers who passed their test after 1st January 1997 are not given this category and are now required to pass PCV minibus theory, medical and practical tests to obtain a D1 licence. In these circumstances however, you may drive a minibus with up to 16 passenger seats only in the UK provided that you will be driving on behalf of a non-commercial body for social purposes, but not for hire or reward unless under a permit. You will also need to be over 21 years of age and have held a car (category B) licence for at least 2 years. The services you are providing must be on a voluntary basis and the minibus maximum weight must be no more than 3.5 tonnes (3500 kgs) excluding any special equipment for the carriage of disabled passengers (4250kgs). Drivers aged 70 and over will also need to meet the health standards for driving a vehicle (i.e. minibus) which comes with the D1 class. If you are driving for hire and reward under a Section 19 permit and you are being paid, you can only do so if you have passed a further test to obtain Category D1 Licence.
To summarise:
If you have passed your driving test on or after January 1st 1997 and you wish to drive a minibus with a gross weigh in excess of 3.5 tonnes you will have to pass a D1 driving test. If you passed your car driving test before 1 January 1997, you automatically gained a licence with Category B and D1 entitlement, or Groups A and B on older licences, qualifying you to drive minibuses as well as private cars.
Fare paying passengers.
All minibuses that carry fare paying passengers will require some form of hire and reward driving licence category irrespective of the weight of the minibus.
Examples of minibuses that can be driven on a normal A/B Class Licence (upto 3500kgs GVW)
An example of a minibus which is suitable for a B car licence as per the conditions of use above, is the Peugeot Boxer 3500 16 seat.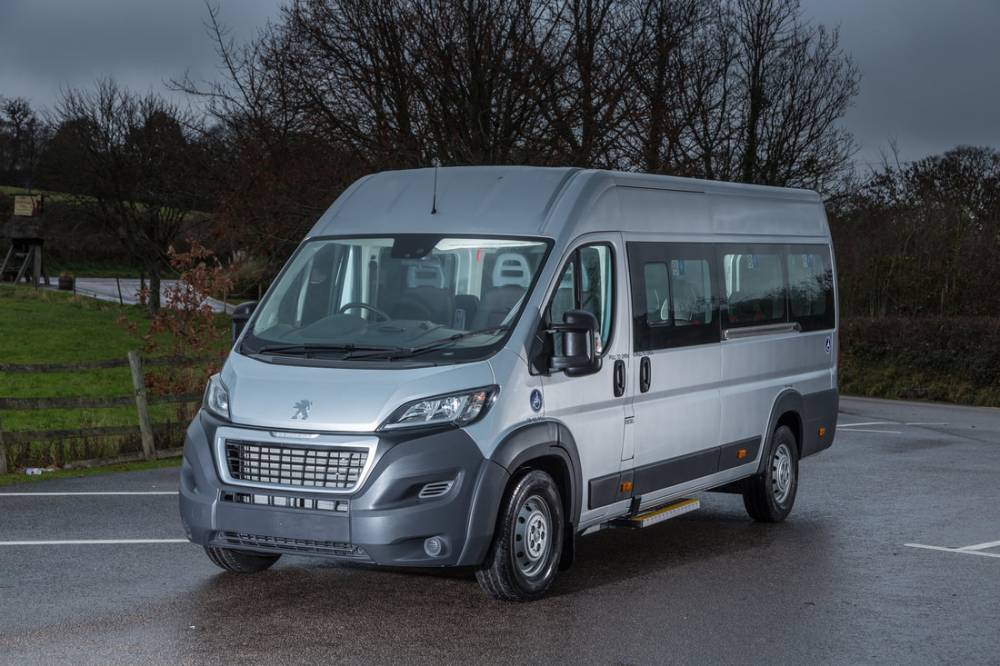 The Ford Transit 12 seat(350) minibus.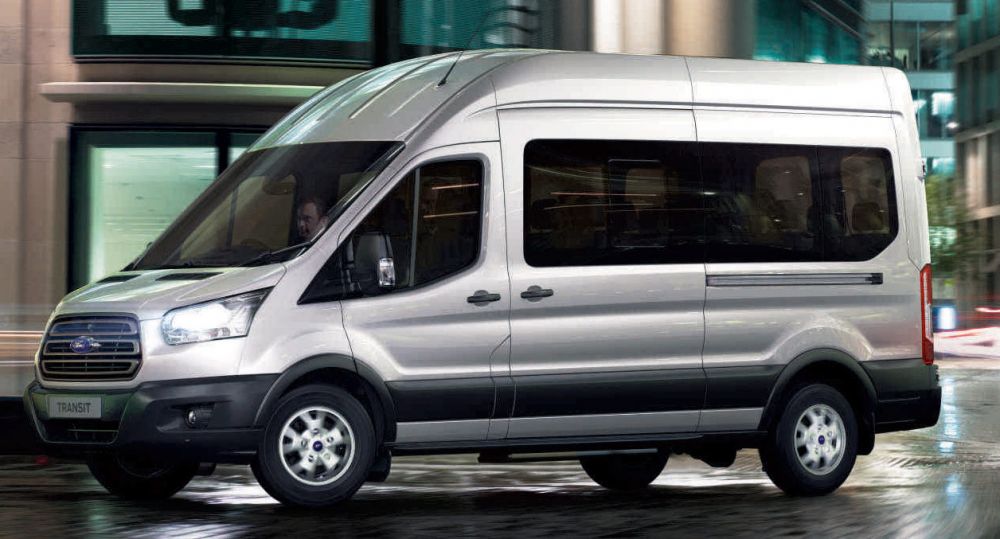 Transporting staff
Many commercial businesses operate transport their staff to and from their place of work using their own minibuses. If the staff are charged for this service, then this is classed as 'hire or reward' (see above) and the appropriate licence would be required. If the staff were transported free of charge, this is not classed as 'hire or reward'.
PCV, PSV & 'hire or reward'
Specific minibus advice relating to PCV (PSV) and Hire & Reward. Driving a mini-bus with nine seats or more, for hire or reward
Driving a school minibus
Specific advice for schools on buying and driving a minibus.
Section 19 & Minibus Permits
Specific information on section 19 minibus permits

Tachographs for minibuses
Tachographs are installed to monitor the amount of time drivers spend driving a vehicle and new government legislation requires businesses, schools, charities and other organisations operating minibuses with 10-17 seats commercially, to fit new digital tachograph equipment which will need to be operational for use in the UK from April 2007.
All vehicles, over 3.5 tonnes (3500kg), registered after 1 May 2006 are legally required to have a digital tachograph fitted. Minibuses with more than eight passenger seats registered after 1 May 2006 will also need to be fitted with digital tachographs. Vehicles registered prior to this date will require a tachograph to be fitted retrospectively and these vehicles had until 31st December 2007 to comply. During this period of compliance until a tachograph is fitted, drivers must keep an extract of the duty roster and service timetable.
The new digital tachograph unit operates by use of a driver's card which is inserted into the driver card slot located in the front of each unit. Each driver has his or her own individual card and should be used and kept with the driver at all times when undertaking any driving activity with a vehicle equipped with a tachograph unit. Driver's cards are available from the DVLA at a cost of £38 each and will last for a period of 5 years.
There are some exceptions where tachographs will not be required for domestic work in the UK. These include the exclusive use of the minibus for the non-commercial carriage of passengers, or by a local authority to transport the elderly or disabled.
Taking a minibus abroad
Minibuses which can carry 9 or more persons (including the driver) and are used on journeys to or from the continent or the Republic of Ireland, come within the scope of European Union (EU) and other international regulations governing international bus and coach journeys.
Driving a minibus abroad requires compliance with more complex legislation. The exceptions given by a Section 19 permit do not apply and a post 1 January 1997 licence cannot be used in any circumstances unless the necessary PCV test has been passed and an unrestricted D1 category added. Pre 1997 licenses could be used for some journeys where no students are being carried but in most cases these divers also need to have passed a PCV test.
EU Regulations also require a tachograph to be installed and used for international journeys and you will be required to comply with the EC Drivers' Hours Rules. For trips abroad, a tachograph must be used from the start of the journey in the UK, with a new disc for each day, continuing until the end of the return journey to the UK. There must be one chart per driver per driving day. There are heavy fines for failing to install and correctly use a tachograph. Deliberate falsification of a tachograph can also result in imprisonment.
Further information is also available from the Road Haulage Division, Department for Transport, Zone 2/11 Great Minster House, 76 Marsham Street, London, SW1P, 4DR. For general enquiries on taking a minibus abroad you should telephone 0300 330 3000.
What are the rules on drivers' hours for minibuses.
Further information on both the EU and Domestic Drivers' Hours Rules is published by VOSA in (PSV 375) obtainable as above.
A vehicle which is being used on a Section 19 permit is still a public service vehicle and is subject to domestic drivers' hours rules when a person is driving in the course of his/her employment. Therefore if payment to the driver has taken place (unless it is out of pocket expenses) then domestic drivers' hours rules apply.
Domestic drivers' hours rules do not apply for the private use of a minibus or when permit vehicles are driven by volunteer (i.e. unpaid) drivers.
Obviously if a vehicle is being used as a PSV on a Regular Service (local/ non local) then the relevant domestic drivers' hours rules apply (or in the case of a route exceeding 50 km, EU Hours' Rules).
For PSV non-regular services when a minibus is being used for a non-regular national service, then domestic rules apply. For international services then the EU rules apply.
If a minibus is being used for international journeys (including private use) then EU drivers' hours rules apply.
Before driving a minibus you need to be aware of the following:
Speed limits for minibuses(not towing a trailer) for A class roads (where a lower limit is not signposted ) is 50 mph. On a dual-carriageway the limit is 60 mph and 70 mph on motorways. When towing a trailer the limit on motorways is reduced to 60 m.p.h. It should also be noted that the outer (overtaking) lane of a three or four lane motorway must not be used when towing a trailer.
That being said, from 1st January, 2007, there is a requirement for all diesel minibuses registered after 1st October 2001 to be fitted with a speed limiter restricting their maximum speed to 62mph. This will be extended from 1st January 2008, after which date there will also be a requirement for all minibuses (petrol and diesel) registered after 1st January 2005 to be fitted with a speed limiter.
By law, seat belts must be worn by drivers and passengers at all times. It is the responsibility of the driver to ensure that all passengers comply with this regulation. New seat belt laws require children under 135cm to wear child restraints in addition to seat belts. Driver responsibilities will vary depending on the type of minibus driven.
Ignorance to these seat belt laws will result in a new offence being committed, especially introduced for drivers of buses, coaches and minibuses. Drivers failing their passenger responsibilities can either expect to receive a £30 fixed penalty notice or a maximum fine of up to £500 if the case goes to court. Minibus owners and operators could also be fined a maximum of £2,500.
A fire extinguisher and first aid kit must always be carried;
Alcohol is illegal on buses going to and from sporting fixtures.
Side lights must be on when the minibus is parked on the street at night
Horns and reversing bleepers must not be used between 11.30 pm and 7.00 am (except on major roads).
RoSPA's Minibus Safety - A Code of Practice booklet can be downloaded here
This Guide is only intended for general help; it is not a legal document. Therefore you should seek your own legal advice if you have any doubts with these issues.
See also Renault Trafic Passenger 9 Seat, Minibus Insurance, Renault Trafic Panel Vans, Renault Master Panel Vans