Alternative options available:-
LWB
AIRCON
REV SENSORS
CRUISE
ALLOYS
New Ford Transit Custom 320 LWB Tourneo 9 Seat Zetec Minibus - Offer 2
SWB
METALLIC
AIRCON
REV SENSORS
CRUISE
ALLOYS
New Ford Transit Custom 320 SWB Tourneo 9 Seat Zetec Minibus - Offer 3
SWB
AIRCON
REV SENSORS
CRUISE
ALLOYS
New Ford Transit Custom 320 SWB Tourneo 9 Seat Zetec Minibus - Offer 4
LWB
METALLIC
AIRCON
REV SENSORS
CRUISE
ALLOYS
New Ford Transit Custom 320 LWB Tourneo 9 Seat Zetec Minibus - Offer 5
LWB
AIRCON
REV SENSORS
CRUISE
ALLOYS
New Ford Transit Custom 320 LWB Tourneo 9 Seat Zetec Minibus - Offer 6
SWB
METALLIC
AIRCON
REV SENSORS
CRUISE
ALLOYS
New Ford Transit Custom 320 SWB Tourneo 9 Seat Zetec Minibus - Offer 7
LWB
METALLIC
AIRCON
REV SENSORS
CRUISE
ALLOYS
New Ford Transit Custom 320 LWB Tourneo 9 Seat Zetec Minibus - Offer 8
SWB
AUTO
AIRCON
REV SENSORS
CRUISE
ALLOYS
New Ford Transit Custom 320 SWB Tourneo 9 Seat Zetec Minibus - Offer 9
LWB
AUTO
AIRCON
REV SENSORS
CRUISE
ALLOYS
New Ford Transit Custom 320 LWB Tourneo 9 Seat Zetec Minibus - Offer 10
SWB
METALLIC
AUTO
AIRCON
REV SENSORS
CRUISE
ALLOYS
New Ford Transit Custom 320 SWB Tourneo 9 Seat Zetec Minibus - Offer 11
LWB
METALLIC
AUTO
AIRCON
REV SENSORS
CRUISE
ALLOYS
New Ford Transit Custom 320 LWB Tourneo 9 Seat Zetec Minibus - Offer 12
Tourneo Zetec 9 Seat Features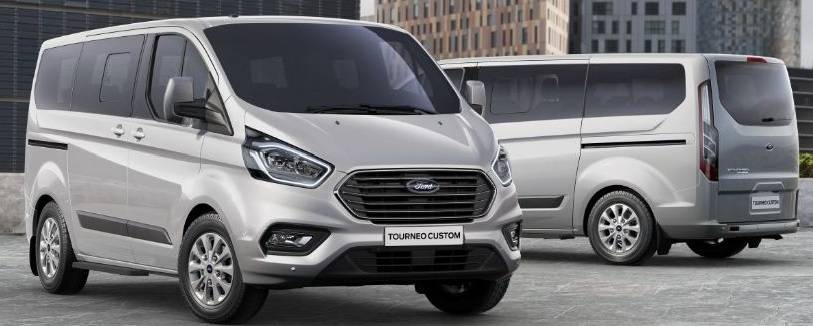 Twin side loading doors
16" alloy wheels
Remote central locking
Power front windows with one-shot up/down
9 seats including the driver with Dual Front Passenger Seat and 6 Rear seats
Rear privacy glass
Flip open 2nd row windows
Cruise Control with adjustable speed limiter
Electrically operated and heated power foldable door mirrors
Glazed rear tailgate with wash/wipe
Halogen projector headlights with LED Day Running Lights
Static cornering fog lights
Carpet floor covering in passenger compartment
Roll Stability Control & SideWind Mitigation
AM / FM Audio with 4.2" TFT screen, Bluetooth with voice control & 10 speakers
Body colour front and rear bumpers
Quickclear heated windscreen
Front manual air conditioning
Lockable glove box lid
Rain sensing front wipers and automatic headlights
Front and rear parking sensors
See also
If you require just 6 seats, why not look at the Custom 6 Seat DCIV (Double Cab In Van).
If you are looking for the panel van alternative visit out Custom Van page on our alternative van leasing website.
See also Renault Trafic Passenger 9 Seat, Minibus Insurance, Renault Trafic Panel Vans, Renault Master Panel Vans
Custom Tourneo Zetec 9 seat finance (HP)
How must does it cost to finance and own a Custom Tourneo 9 seat Zetec minibus?