Alternative options available:-
New Ford Transit Custom 310 LWB Kombi 9 Seat Minibus - Offer 2
New Ford Transit Custom 310 SWB Kombi 9 Seat Minibus - Offer 3
New Ford Transit Custom 310 LWB Kombi 9 Seat Minibus - Offer 4
New Ford Transit Custom 310 SWB Kombi 9 Seat Trend Minibus - Offer 5
New Ford Transit Custom 310 LWB Kombi 9 Seat Trend Minibus - Offer 6
New Ford Transit Custom 310 SWB Kombi 9 Seat Trend Minibus - Offer 7
New Ford Transit Custom 340 LWB Kombi 9 Seat Trend Minibus - Offer 8
LWB
REV SENSORS
CRUISE
AUTO
New Ford Transit Custom 310 LWB Kombi 9 Seat Trend Minibus - Offer 9
LWB
REV SENSORS
CRUISE
AUTO
New Ford Transit Custom 340 LWB Kombi 9 Seat Trend Minibus - Offer 10
New Ford Transit Custom 340 LWB Kombi 9 Seat Trend Minibus - Offer 11
LWB
REV SENSORS
CRUISE
AUTO
New Ford Transit Custom 340 LWB Kombi 9 Seat Trend Minibus - Offer 12
More Information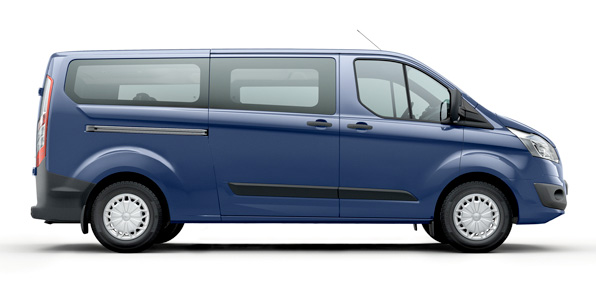 A Ford Transit Custom 9 Seat Kombi LWB
The Ford Transit Custom Kombi 9 seat comes in two lengths L1 4972mm (short wheelbase) and L2 5339mm (long wheelbase). The L1 has a turning circle with 15inch wheels of 10.9m kerb to kerb and with the 16inch wheels 11.6m kerb to kerb. The L2 has a turning circle of 12.2m kerb to kerb with the 15 inch wheels and 12.8m kerb to kerb with the 16 inch wheels.
Each seat back can fold forward to create a flat workspace. The whole seat can fold forward again to take up minimal space. For more room, each seat can be removed. The flexibility of this new seating system can create over 30 different seating and loadspace configurations to suit any occasion.
Other possibilities for 9 seat minibuses - look also at the Ford Tourneo 8 & 9 seat minibus, Ford Kombi 9 seat minibus, Renault Trafic 9 seat minibus, Vauxhall Vivaro 9 seat minibus, VW Shuttle 8 & 9 Seat or Mercedes Vito Traveliner 9 seat minibus
If you require just 6 seats, why not look at the Custom 6 Seat DCIV (Double Cab In Van).
If you are looking for the panel van alternative visit out Custom Van page on our alternative van leasing website.